SHPA Call to Action: Our Month of Action
The Supportive Housing Providers Association is calling our residents, supporters, and members to action! Join us in February for Our Month of Action!
Supportive Housing is powerful- it can stop unnecessary institutionalization, end homelessness, build communities, and strengthen Illinois! Support supportive housing by connecting with Illinois Lawmakers in February- so our collective story can find its champions and together, we can expand supporitve housing in Illinois!
SHPA's Action Toolkit
This toolkit provides SHPA's members and supporters information on joining SHPA's work to increase, preserve, and protect Supportive Housing line items in the state budget. Our goal is to successfully advocate for an increase in state appropriations so that Supportive Housing line items are appropriated $46.9 million in FY2023. This toolkit provides information on these action opportunities: SHPA's Call-In Days, Setting Up a Virtual Meeting with Lawmakers, Lawmaker Awareness and Advocacy Letter Campaign, and Social Media Awareness using #ILSupportiveHousing.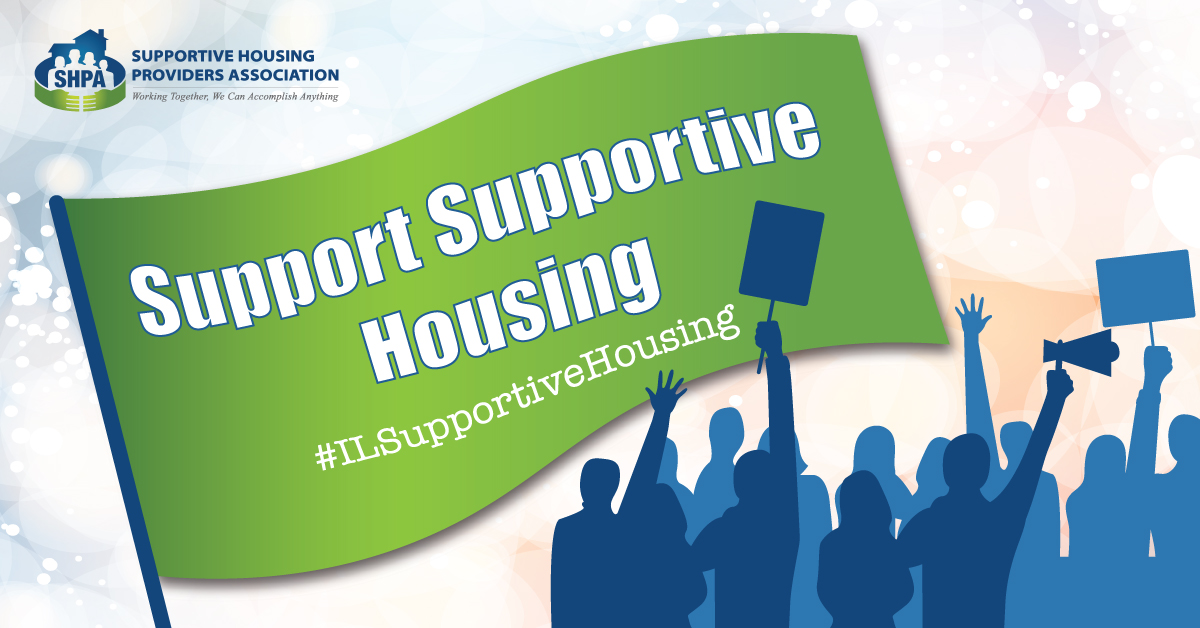 This legislative session, the Supportive Housing Providers Association will
engage the Illinois General Assembly (ILGA) Members about two specific issues:
Our Primary Ask- Our Budget Ask
We are respectfully asking the lawmakers to appropriate $46.9 million for supportive housing services as part of the FY 2023 budget.
This funding, which represents an increase relative to the FY 2022 appropriation of $5.1 million, the request includes an allocation of $3.0 million to provide services to the residents of 875 new units coming online in the next fiscal year- which doubles the units added in FY22. Also, we request $2.1 million, (5% cost-of-living) increase to support existing grants as providers combat the employment crisis. Providers have not received a cost-of-living increase in 4 years and providers face serious staffing challenges.
Our Secondary Ask- Our ARPA (American Rescue Plan Act) Ask
The Supportive Housing Provider Association is sharing a recommendation that aims to improve Illinois' response to homelessness and create housing stability. Funding now available in Illinois from emergency relief resources, such as the American Rescue Plan Act, creates a once in a lifetime chance to improve the components of the Homeless Response Systems and expand Supportive Housing in Illinois.